Tumucumaque Mountains National Park (too-moo-koo-MAH-kay) is the first reserve to be established under the Amazon Region Protected Areas (ARPA) program. It is four times the size of Yellowstone, is the largest tropical rain forest reserve in the world (9.5 million acres), and has no roads or human inhabitants.

Ultimately the ARPA program will encompass a full third of the Amazon region for reserves and sustainable natural resources. It is the most ambitious conservation effort of our time.

Over $81 million has been raised for this effort with the total estimated amount needed being $395
million. All contributions are matched by the Global Environmental Facility.
ARPA OBJECTIVES
Establish 70 million new protected acres.
Fortify 31 million acres of neglected parks.
Create 22 million acres of sustainable use reserves. Read More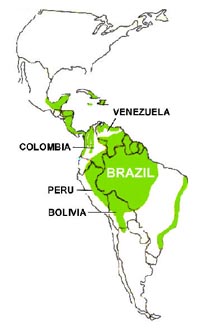 To view a list of all the parks in the ARPA system Click Here
At the World Summit on Sustainable Development in Johannesburg South Africa, President Cardoso of Brazil signed an agreement called the Amazon Region Protected Areas Program (ARPA). It will preserve 1/3rd of the Amazon. This is the most ambitious rainforest initiative ever.

Many environmental groups, government, and world agencies helped to create the park. They include: the government of Brazil, the World Bank, the United Nations, the Global Environmental Facility (consisting of 32 countries), the World Wildlife Fund, Conservation International, and numerous other environmental organizations.

The first land that was set aside was Tumucumaque Mountains National Park (too-moo-koo-mah-kee). It is one of the greatest unexplored places on Earth, and now the world's largest park containing 3.8 million hectares (9.4 million acres). It's located in the state of Amapa. Amapa runs along the northeast border of Brazil. Slonga National Park, in the Democratic Republic of Congo, was the world's largest park.

Tumucumaque means the rock on top of the mountain. Mountains jet out of the forests at 2,300 feet, along with majestic waterfalls, and the state's biggest most turbulent rivers: Jari, Oiapoque, and the Araguari river. These features make the park inaccessible. They are too difficult to cross, and there are no roads there. For these reasons there are no indigenous people there, so the park has been untouched by human hands. Because there are no indigenous tribes in the park, conservationists don't have to work around the needs of the people, or spend much to preserve it. Keeping roads out of the park will prevent illegal logging, tin mining, and poaching.

President Cardoso referred to Tumucumaque as being one of the most pristine forests in the world. He said, "Plants and animals that are endangered elsewhere will continue to thrive in our forests forever." "Since Tumucumaque is one of the greatest unexplored places on Earth, we can only imagine what undiscovered mysteries will one day be found in the park," said Mittermeier. Mittermeier serves as chairman of the World Conservation Union's Primate Specialist Group, and has discovered several primates previously unknown to science in the Brazilian Amazon. These primates include: the brown-bearded saki monkey, the white-faced saki monkey, and black spider monkey. Other animals include: jaguars, harpy eagles, harpy owls, paccas, freshwater turtles, sloths, anteaters, armadillos, 350 species of birds, 37 lizard species, fish and many more species to be discovered.

The Amazon rainforest covers Brazil, Venezuela, Peru, Colombia and Bolivia. It is the largest rainforest in the world. If the Amazon were a country, it would be the ninth largest country in the world. Some 30% of the world's plants, animals, and insects inhabit Tumucumaque.

At first the park will only be opened to scientists, but there are future plans to open the park to tourism. Tourism will generate a sustainable income.

Over $81 million dollars has been donated for this project, and the projected amount is

$395 million.

The massive support and funding for the project will secure Tumucumaque's future.

The funding will be used to establish a

trust fund to protect the land indefinitely. A percentage of the interest will pay for forest rangers and surveillance to combat illegal logging, poaching, and for an emergency management plan.

(Read More)